John Raleigh of Forde – a Newton Abbot connection
September 09, 2021
---
John Raleigh of Forde - a Newton Abbot connection
The girl she called granddaughter was peering at her, offering the apothecary's potion. Kitty Hooker; such a pretty girl, so like her mother, Walter's Mary. Katherine's mind rambled over memories of the day Kitty wed John Hooker's son Robert at the Church of St Mary in Wolborough. John Raleigh, grown wealthy from his shipping interests and his wife's money, had put on quite a show for the wedding of a favourite niece.

An extract from A Woman of Noble Wit
An ageing Katherine Raleigh recalls the wedding of another Catherine (called Kitty in my novel), Walter Raleigh senior's granddaughter. Kitty's mother was Walter's daughter Mary, the only child of his second marriage to Isabella, the daughter of a London merchant. Mary married first Hugh Snedall and then John Rouse.
When researching for my no
vel I was delighted to find an unexpected connection between the Raleighs and my home town.
The marriage of Catherine Snedall and Robert Hooker (alias Vowell), son of the Exeter administrator John Hooker, on 11 August 1586 is recorded in the parish register of St Mary's Wolborough. The church stands amongst green hills just beyond the bustling market town of Newton Abbot wher a church has stood for more than 1000 years. The present building is fifteenth century, so it probably would have looked much the sameon that day in 1586 as it does today when I pass by on the way to my allotment.

I have found nothing in the historical record to confirm whether Katherine Raleigh attended the wedding, but it does seem that she had a fondness for Catherine Hooker. When she makes her will in 1594 she bequeaths to Mistress Catherine Hooker a highly prized possession — "the bed wherein I lie".

Nor have I uncovered any evidence to show that Katherine went to an earlier wedding at the same church; that of her stepson John Raleigh. The entry in the parish register for that marriage is rather confused. The names are spelled oddly and it might easily be missed. Close study reveals that on 16 December 1560 "Joshes Raleigh" married "Anna Gardock the relict of John Gardock" – a variant spelling of Gaverocke. John Gaverocke, former steward of Torre Abbey, came into Abbey lands in Wolborough and Newton Abbot in the 1540s following the dissolution. I have discovered little about John Gaverocke's history; there are possible links to Great Potheridge in North Devon, Gaverockes are recorded at Bovey Tracey in the 1550s, and a Robert Gaverocke and his children appear in the Wolborourgh register — five sons and two duaghters at regular intervals from 1561 to 1572. We might assume that Robert Gaverocke was John's brother — he clearly was not a son, as the IPM for John's heir Richard, who died in 1563, makes it clear that the next heirs are John Gaverocke's three daughters, Elizabeth, Alicia and Susan.
Anne, John Gaverocke's second, or possibly third, wife was the daughter of Bartholomew Fortescue of Filleigh. The Fortescues were an ancient and distinguished family who included among their number a former Chief Justice who wrote a notable treatise on English Law and served under Henry VI. By the sixteenth centruy they had connections to many of Devon's prominent families. So it seems John Gaverocke was going up in the world. Anne was left a wealthy widow when John Gaverocke died, probably in 1559 (his Inquisition Post Mortem is recorded in November of that year, although a John Gaverocke was buried at Bovey Tracey in 1556). He was certianly dead by 1560. Before he died he had moved from the Manor House in Wolborough Street, Newton Abbot to Forde on the other side of the town, where he built himself a fine house.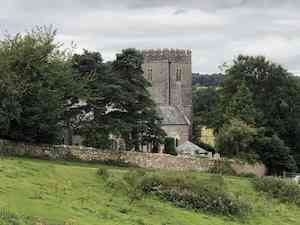 John and Anne Raleigh do not seem to have had any surviving children. The birth of a daughter, Anna, is recorded in the Wolborough register in1561, though this is another entry easily overlooked due to strange, barely readable, spelling. If this is John Raleigh's daughter then it tmust be assumed the child died since I have found no record of either a burial or a marriage, and she is not mentioned in John Raleigh's will.
So who was this John Raleigh? He was born around 1529, the second son of Walter Raleigh senior and his first wife Joan Drake. In 1551 we find John Raleigh named co-lessee of the farm at East Budleigh rented by his father. Walter Raleigh senior owned several ships and in 1557 John was named, along with his brother George in a claim in the Court of Admiralty concerning an act of piracy against a Portuguese vessel. It seems John was closely involved with his father's shipping business, which sometimes crossed the line between privateering and piracy.
In 1558 Elizabeth Adams granted John Ral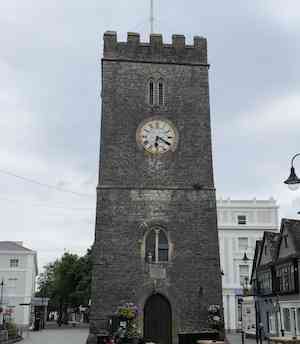 eigh a burgage in Newton Abbot. Interestingly in this document he is referred to as "John Raleigh of Forde".The deed is witnessed by Hugh Snedall, gent – his half sister Mary's husband. This deed may refer to the house situated on the site of the present day Union Inn, near what was then St Leonard's shapel of ease. It is said that John Raleigh had a private door to allow him and his family to enter the chapel from his nearby house unobserved. Only the Tower remains today, but the door can be seen inside when the Tower is open to the public.
After John Gaverocke's son and heir Richard died in 1563, John Raleigh was granted wardship of the three Gaverocke daughters who became co-heiresses to their late brother's estate. We find him again styling himself "John Raleigh of Forde" in later land transactions and we might assume that he and Anne took up residence at John Gaverocke's house at Forde. He is recorded on the list of sea captains drawn up in 1585/86 in preparation for the defence against the threat of Spanish invasion.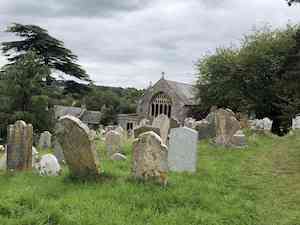 It was thought for many years that John Raleigh lived to a very old age and was buried in Withycombe Raleigh in 1629. This was due to an uncharacteristic error by the otherwise impeccable Victorian scholar, T. N. Brushfield, who wrongly identified the John Raleigh named on a memorial in Withycombe Raleigh church as Walter senior's son. Again, we must look to the parish register in Wolborough to find that John was actually buried there on 18 July 1588, just before the English fleet engaged with the Spanish Armada.
John Raleigh (Armiger) made his will on 28 October 1585, being "sick in body but perfect in mind and memorie". It is a fascinating document that shows he died a wealthy man. He left substantial bequests to his wife Anne, his sister Mary, now the wife of John Rouse, his brother George and to Susan Gaverocke, now the wife of John Drew. He refers to Susan as his daughter-in-law — a term used rather loosely in those times — and made her his sole executrix.The record is silent as to which of Gaverocke's wives was mother to Richard or any of the girls, but it seems likely that Susan was the child Anne Fortescue. Susan married John Drew at Wolborough in 1573, her two sisters Elizabeth and Alicia having married Thomas Marshal and Nicholas Hayman in 1566 and 1572 respectivley. In his will John Raleigh left to John Drew his black armour of proof, his black horse and a colt with a flaxen mane, while his second best suit of armour went to Nicholas Kerswell, esquire. No doubt his amour saw good use in his seafaring days as a captain of privateering vessels.

John Raleigh's widow Anne lived out her life at Forde, but it appears that the Drew's may also have taken up residence, since we find John Drew styled as "John Drew of Forde" in later documents. After Anne's death which was probably in 1596, we find Anne's nephew, Hugh Fortescue, Sheriff of Devon in 1583, named in a deed dated 1597. It concerns the disposal of Anne Rawleigh's jointure and lands and the debts of John Drew. Through what muist have been a complex series of transactions Susan Drew and her husband and Susan's co-inheritors — the heirs of her already deceased sisters — eventually transferred the whole of the manor of Wolborough to Richard Reynell, a successful lawyer and Member of Parliament whose family came from Ogwell, a village near Newton Abbot. He built Forde House in the latest style to replace John Gaverocke's earlier house.
Photo Newton Abbot Town Council