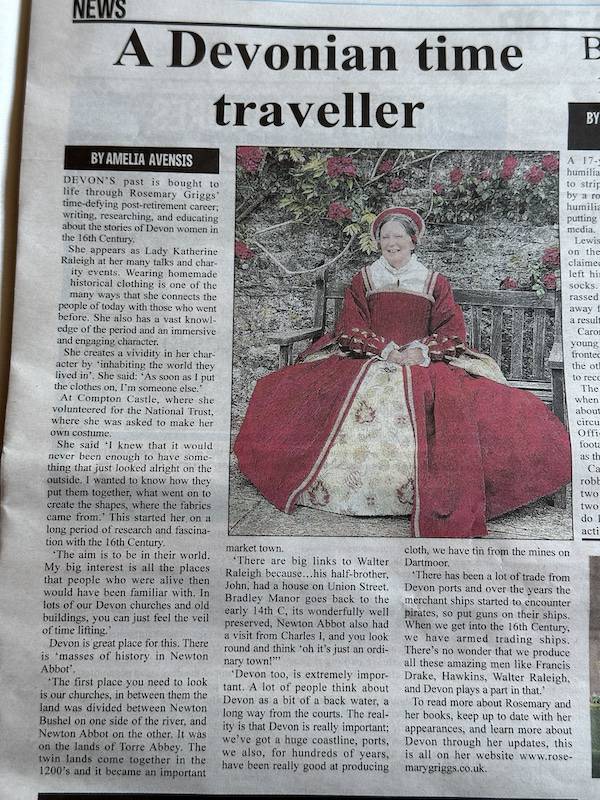 A Devonian time traveller
From Mid Devon advertiser — Thursday 21September 2023 | September 22, 2023
DEVON'S past is brought to life through RosemaryGriggs time-defying post-retirement career ;writing, researching, and educating about the stories of Devon women in the 16th Century. She appears as Lady Katherine Raleigh at her many talks and char-events. Wearing homemade historical clothing is one of themany ways that she connects the people of today with those who went before. She also has a vast knowledge of the period and an immersiveand engaging character. She creates a vividity in her character by inhabiting the world theylived in'. She said: 'As soon as I putthe clothes on, I'm someone else.At Compton Castle,where shevolunteered for the National Trust,where she was asked to make her own costume.She said I knew that it wouldnever been enough to have some-thing that just looked alright on the outside. I wanted to know how theyput them together, what went on to create the shapes, where the fabrics came from.' This started her on along period of research and fascination with the 16th Century.The aim is to be in their world. My big interest is all the placesthat people who were alive thenwould have been familiar with. In lots of our Devon churches and oldbuildings, you can just feel the vellof time lifting.Devon is great place for this. ....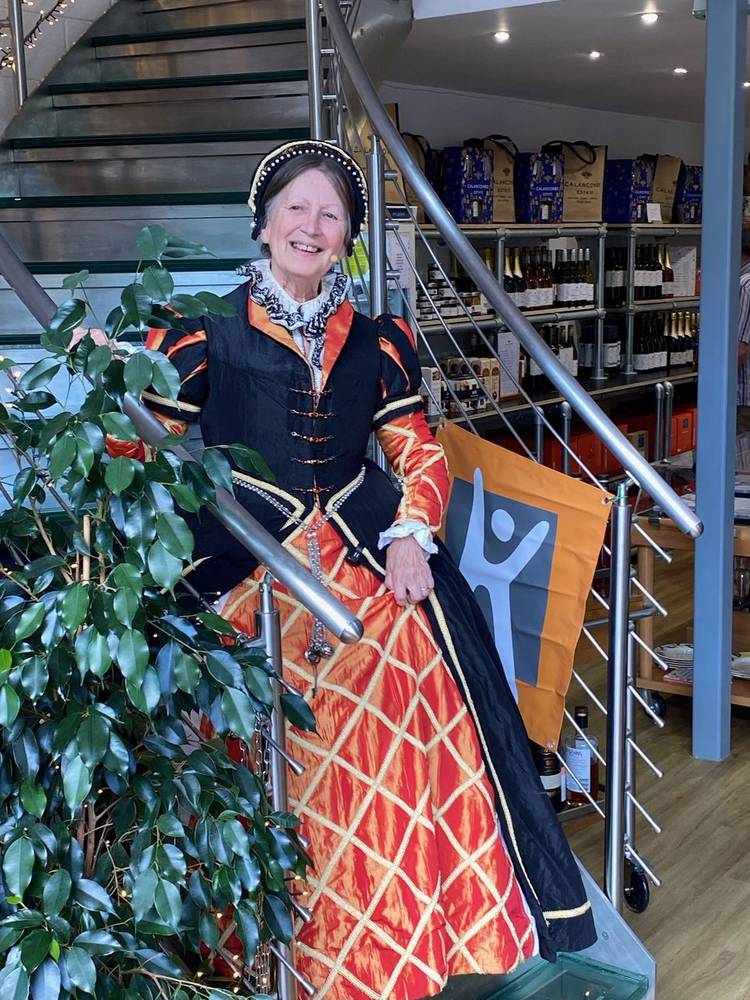 Successful historical novelist Rosemary Griggs speaks at charity event
From Facebook https://www.facebook.com/KASCinfo 23 August 2023 | August 26, 2023
Lunch, Tour and Talk at Calancombe Vineyard Wow! Wow! Wow! What an event! KASCTrustees welcomed successful historical novelist, Rosemary Griggs to Calancombe Wine Estate near Modbury. Rosemary's latest work, A Woman Of Noble Wit, transports the reader back to Modbury during Tudor England. Then the story of Lady Katherine Champernowne unfolds. She was aremarkable woman, mother of Sir Walter Raleigh and Sir Humphrey Gilbert in addition to another six or seven children from two marriages. Calancombe Vineyard is a paradise. Guests enjoyed a tour of the winery before adelicious lunch accompanied by wines from the estate; some of which were award winning. Huge thanks to all the staff whohelped to make the event so memorable.Everyone had a fabulous day and much needed funds were raised for KASC.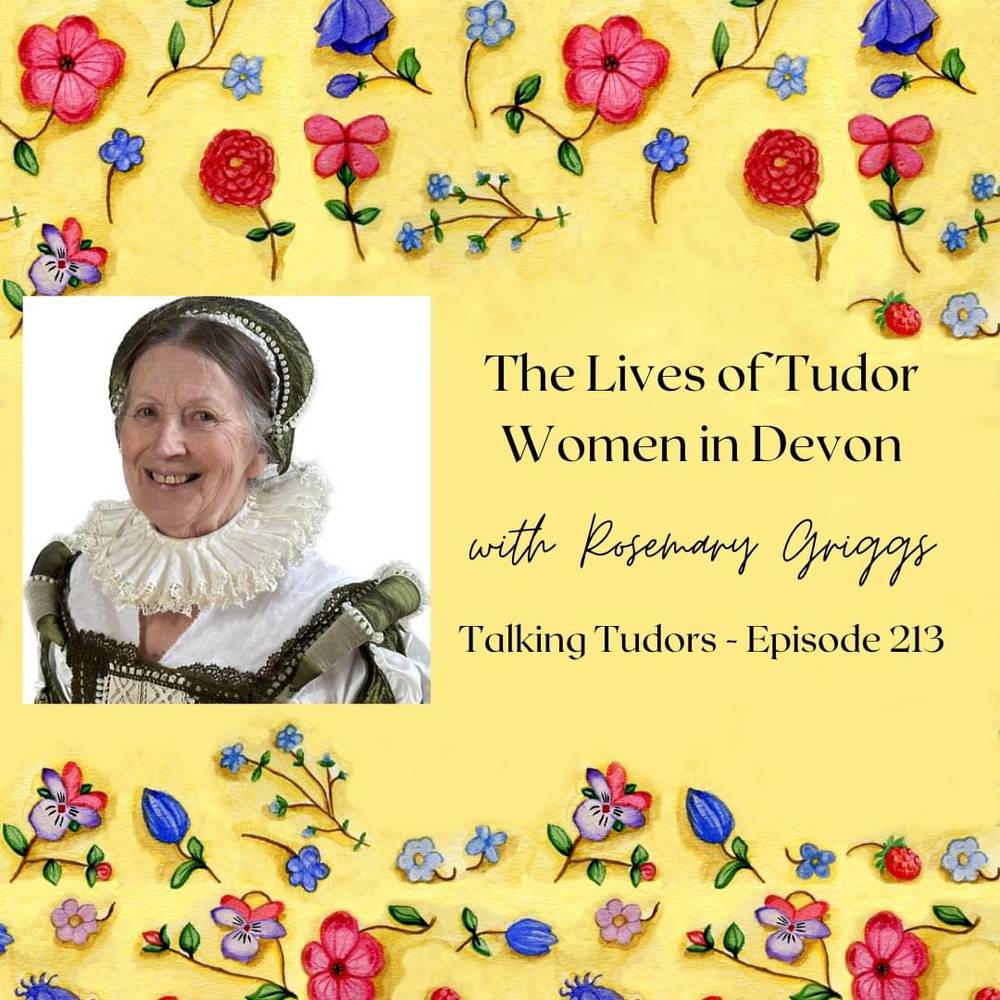 Author Rosemary Griggs talks about the lives of Tudor Women in Devon
From Talking Tudor's Podcast - Episode 213 | July 24, 2023
Author Rosemary Griggs was a guest on Talking Tudors, a popular podcast for lovers of Tudor history. "It was wonderful to talk with Natalie about the lives of Tudor Women in Devon" says Rosemary. "Some, like Katherine Raleigh, may have been closely connected to the royal court; but all women were affected by the changes that swept through England in those turbulent years."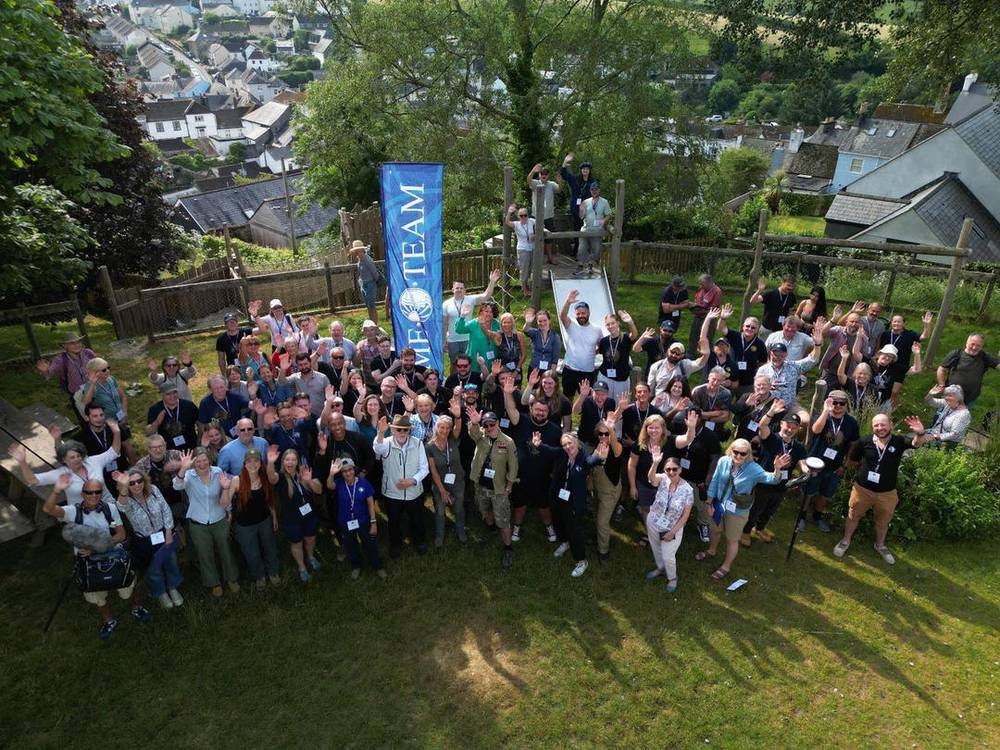 Time Team in Modbury
From Author | June 20, 2023
Katherine Champernowne's story, told in my novel A Woman of Noble Wit, started in the market town of Modbury. So it was wonderful to be there last weekend when Time Team arrived to work with local residents to explore the roots and development of a thriving community in South Devon. What a fascinating experience! Look closely - you'' see a small figure in pink in the front of the photo - that's me - though the LadyKatherine also made an appearance too.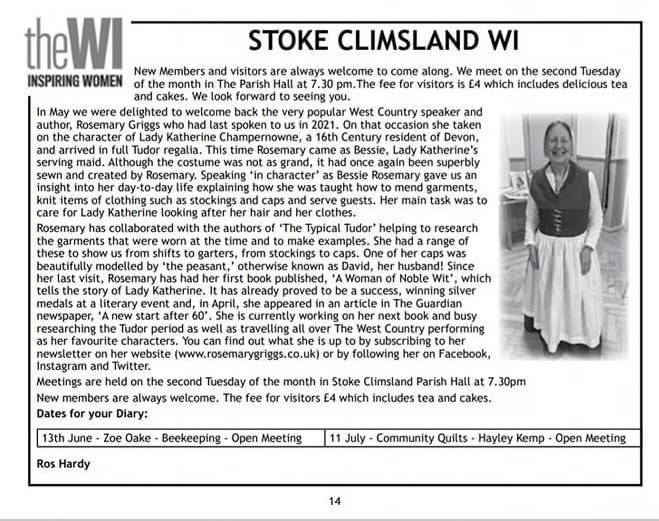 Popular West Country speaker and author, Rosemary Griggs visits Stoke Climsland
From The Old School News, Stoke Climsland | June 04, 2023
In May we were delighted to welcome back the very popular West Country speaker and author, Rosemary Griggs who had last spoken to us in 2021. On that occasion she taken on the character of Lady Katherine Champernowne, a 16th Century resident of Devon, and arrived in full Tudor regalia. This time Rosemary came as Bessie, Lady Katherine's serving maid. Although the costume was not as grand, it had once again been superbly sewn and created by Rosemary. Speaking 'in character' as Bessie Rosemary gave us an insight into her day-to-day life explaining how she was taught how to mend garments, knit items of clothing such as stockings and caps and serve guests. Her main task was to care for Lady Katherine looking after her hair and her clothes. ...[Rosemary] is currently working on her next book and busy researching the Tudor period as well as travelling all over The West Country performing as her favourite characters.