Puffed and paned sleeves
September 10, 2021
---
Puffed and paned sleeves
Let's delve into the coffer and take a look at another popular type of sixteenth century upper sleeve.
I always think of puffed and paned sleeves as the "Snow White" look. You'll find a lot of portraits from the 1560s with variations on this style, which both wealthy and less well-do women could adapt depending on the fabric they had available.
I wanted to recreate a gown the historical record told us Katherine Raleigh actually owned - a gown her sister bequesthed to her in her will. Elizabeth Cole (alias Pollard) wrote her will in 1568, so I thought it likely that the "best gowne of silke" she left to her sister Katherine Raleigh might well have had this style of sleeves.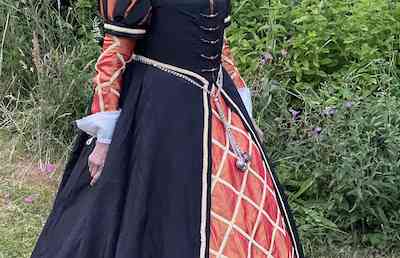 I teamed puffed and paned sleeves with a simple tight fitting lower sleeve and separate ruffled cuffs, which can be changed for my silk swept back cuffs (shown here) for a slightly different effect.
I used the Tudor Tailor pattern for a fitted English Gown. As usual I had to make quite a lot of adjustments and several mock ups to get the right fit for me - I am apparently not a stock size! Once the basic garment was cut and made up I could concentrate on those sleeves.
A foundation is cut from lining fabric, "panes" from both top fabric and lining, a "puff" from contrasting fabric.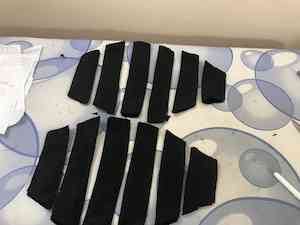 Each pane must be lined by folding in the seam allowance on both pane and lining and hand stitching together.
To take the split willow cane wh
ich acts as boning and holds the sleeve out, tapes are sewn onto the sleeve foundation making sure to sew the short lengths first. The sleeve foundation underarm seams are then stitched and the sleeve head gathered to fit the armhole of the gown. The canes are then inserted. The long "bone" goes round the whole sleeve, so the ends are overlapped and taped together - zinc oxide tape works well.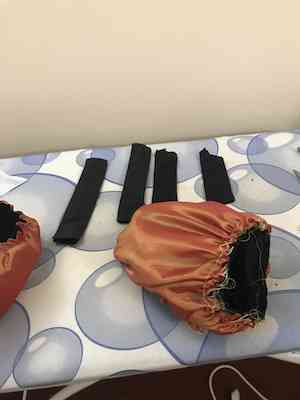 The underarm seams on the puffs are sewn and then the puff and foundation can be fitted together.
Next the panes are arranged evenly around the puff, leaving a space a the underarm. The puff can be pulled through the gaps between the panes.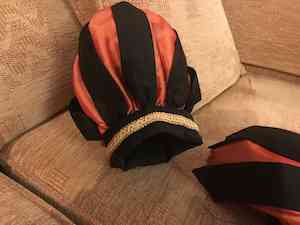 The panes need to be gathered or cartridge pleated to fit. This stage took a lot of fiddling. A band or cuff is cut to finish the bottom edge of the sleeve, and braid trim added.
The tightly fitted lower sleeve is simply slipped underneath and can be fastened in position with ties if needed.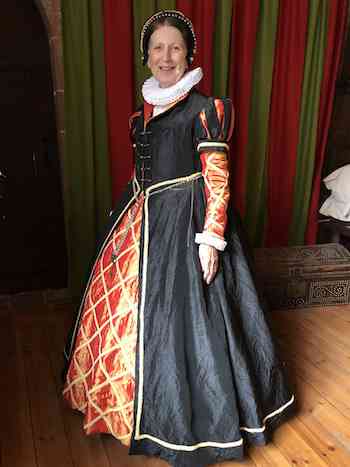 Here is the finished ensemble. I hope that both Elizabeth and Katherine would think I have done justice to their gown.