Dartington Hall
December 22, 2021
---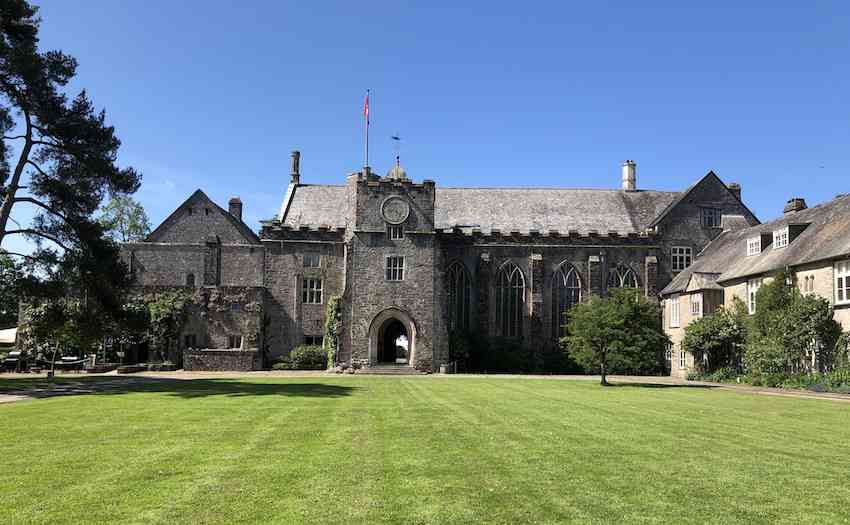 Dartington Hall, with its mellow grey stone walls, glorious gardens full of birdsong and ancient trees, is a favourite Devon gem I return to again and again. Now a centre for progressive learning in arts, ecology and social justice, as well as a vibrant, lively arts and culture venue, Dartington and its gardens still retain a strong sense of times past, an air of peace and tranquility. What we see today has been shaped by many hands, a legacy of many owners, some forgotten, some stellar figures on the stage of history.
Why here?
This favoured spot, set amongst gently rolling hills above a bend in the River Dart, has been occupied since ancient times. Before the weir was put in Dartington marked the highest point of the tide, a strategic advantage for anyone holding the land. The first fording point where animals might cross was at Staverton, a short distance away. Once the thickly wooded river banks were cleared the soil proved fertile. So it's not surprising that through the ages people have made their homes here.
Traces of Bronze and Iron Age dwellings and earthworks have been found in the fields that now make up the Dartington estate, some 1200 acres that now surrounds the Hall. As the Anglo Saxons swept into this part of Devon farm settlements were established in the valley bottoms. One of these farmsteads clearly flourished. The first written record of Dartington comes in AD 833, when it is mentioned in a Royal Charter of Egbert, King of the West Saxons The registers of Shaftesbury Abbey show that the Saxon Lady Boergwyn, one of three sisters, gave up her share of their joint inheritance — lands in a place known as Wennland — and retired to Dartington. It seems it was already a place that was suitable for a lady of substance. Boegwyn probably made her home in a timber-built house set in enclosed riverside meadows, closer to the river than the site of the present Hall.
The Norman owners
After the Norman conquest William of Falaise, a captain in William the Conquerer's army, was the first of a succession of Norman lords to hold the manor. At the time of the Doomsday survey there was enough land to support fifteen plough teams, whereas most settlements in Devon could support no more than five. So Dartington was one of the most prosperous settlements in the county, a jewel amongst the nineteen manors granted to William. After his death the estate went to his wife's son from her first marriage and that started the occupation of the Martin, sometimes known as Fitz-Martin, family.The Martins held Dartington for eight generations from the early twelfth to the mid fourteenth century, more than two hundred years. Sir Nicholas Fitz-Martin, a supporter of Henry III, expanded the Martins' land holdings both in Devon and Wales.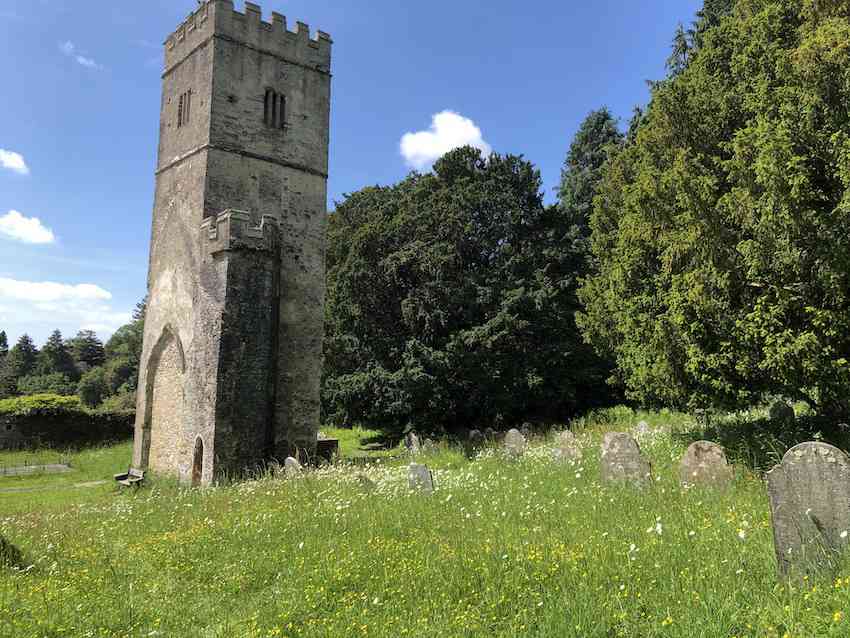 The church, only the tower of which survives, may date back to his time, and the Saxon Gate House and the Longbarn, now the Barn Cinema, are thought to be from around 1230.
Nicholas' grandson William, Lord Martin, spent more time in Devon than his predecessors and may have added to the buildings around the present site. In 1326 the estate covered nine hundred and sixty-eight acres, including an enclosed deer park of one hundred acres. The pale and ditch of the deer park, can still be seen today near the eighteenth century wall. For want of a direct heir, the estate passed to the Audley family for some twenty-five years until, in1385, it reverted to the crown and was granted to John Holland.
John Holland, First Duke of Exeter - half brother of a King
John Holland was the third son of Thomas Holland,1st Earl of Kent, and Joan, known as "the fair maid of Kent". Joan, the daughter of Edmund of Woodstock, one of King Edward I's sons, married Thomas Holland when very young and bore him two daughters and two sons, Thomas and John. When her second husband was Edward, the Black Prince, died in 1376 their son became King Richard II when he was only ten years old.
Played out in the aftermath of the Hundred Years War, the Peasants Revolt and the shifting allegiances of Richard's troubled reign, Holland and his half-brother had what might be described as a difficult relationship. Their differences were said to have eventually caused their mother to die of grief. In 1385, Richard II granted Dartington and a number of other estates to Holland. His title was withdrawn soon after, perhaps due to Holland's closeness to the King's Uncle, the enormously powerful John of Gaunt. In 1386 Holland married Elizabeth of Lancaster and joined her father, John of Gaunt, on an expedition to Spain. On Holland's return to England in 1588 King Richard made him Earl of Huntingdon and the lands granted to him before he went to Spain, including Dartington were confirmed. That is when he set about building a magnificent hall complex at Dartington.
The buildings the Martins had occupied, perhaps neglected during the Audleys' short tenure, were reported to be in a very bad state of repair. A man of John Holland's prominence would in any case need a much larger, much grander establishment. Building work had started by September 1388 when the Dean and Chapter of Exeter granted slate from their quarry at Staverton, probably to roof temporary buildings while the permanent structures were under con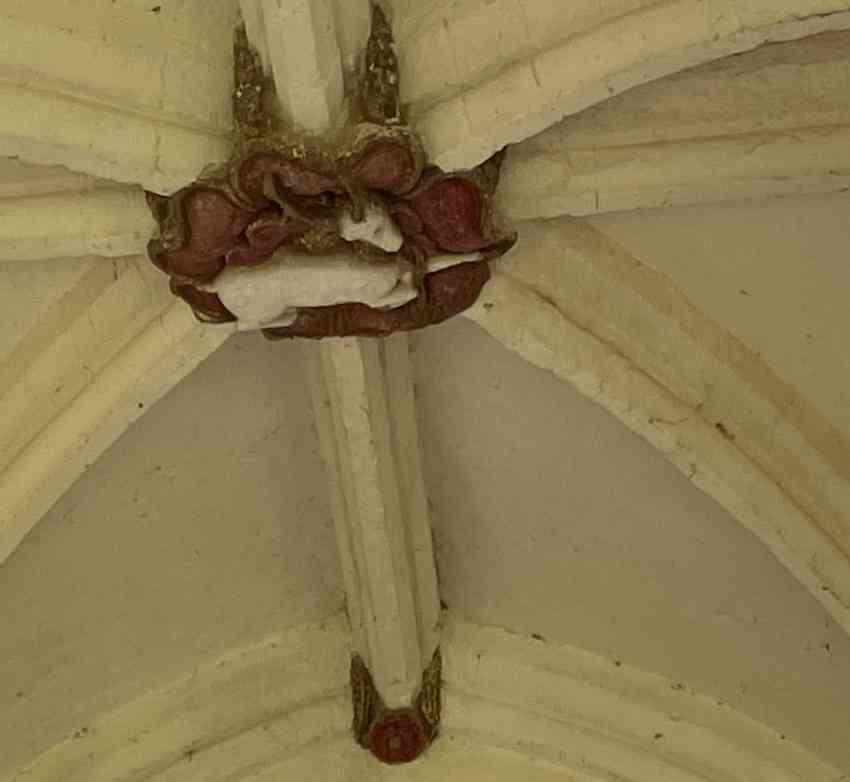 struction.
The emblem of Richard II, the chained White Hart, which can still be seen on the central boss of the porch vault was not adopted by the King until 1390, so the hall must have been completed after that date. The wheat ears also in the porch are John Holland's insignia as Earl of Huntingdon.
Holland built a great hall with a hammer-beam roof similar to the one built for Richard at Westminster Hall and completed only a few years later. This type of roof was a relatively new way of achieving a much larger span than one piece of timber could allow, and John of Gaunt also had a hammer-beam roofed hall at Kenilworth. Perhaps the success of his uncle's hall and Holland's newly constructed one at Dartington encouraged King Richard to have an even larger roof span at Westminster.
To build such a hall in an unfortified mansion in remote Devon was quite a statement on the part of John Holland. He must have been very sure of his lofty status as a member of the extended Royal family. Living chambers were added at one end of the hall, and at the other end, a spacious kitchen with several fireplaces and a high roof was built beyond a screens passage, buttery and pantry with accommodation above, perhaps for the steward. Holland may have felt secure enough to need no fortifications, but he did ensure that a large retinue of servants and men at arms could be accommodated on site by building residential quarters on two sides of the courtyard that faces the great hall.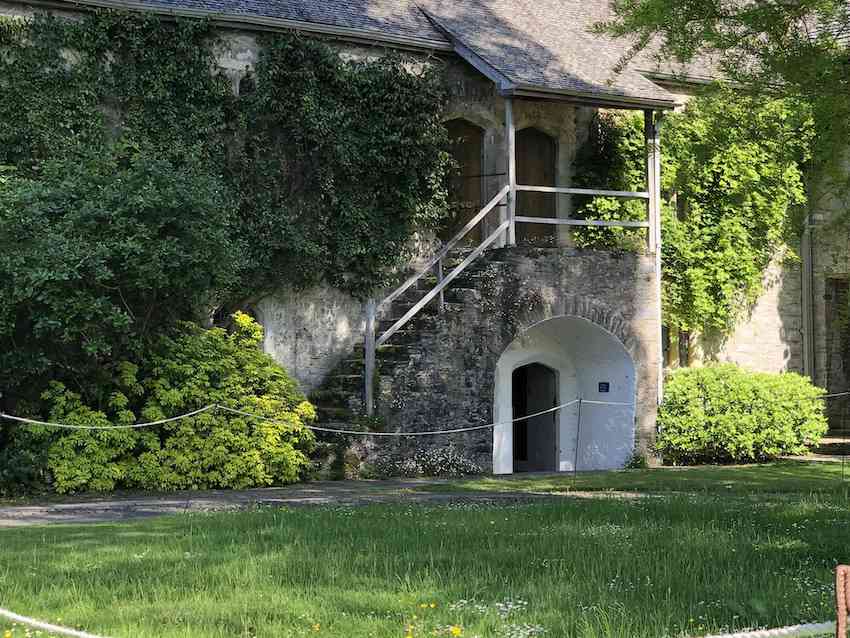 The design of these two storied lodging rooms, can still be seen in one that remains more or less intact today.
It remains uncertain whether the ra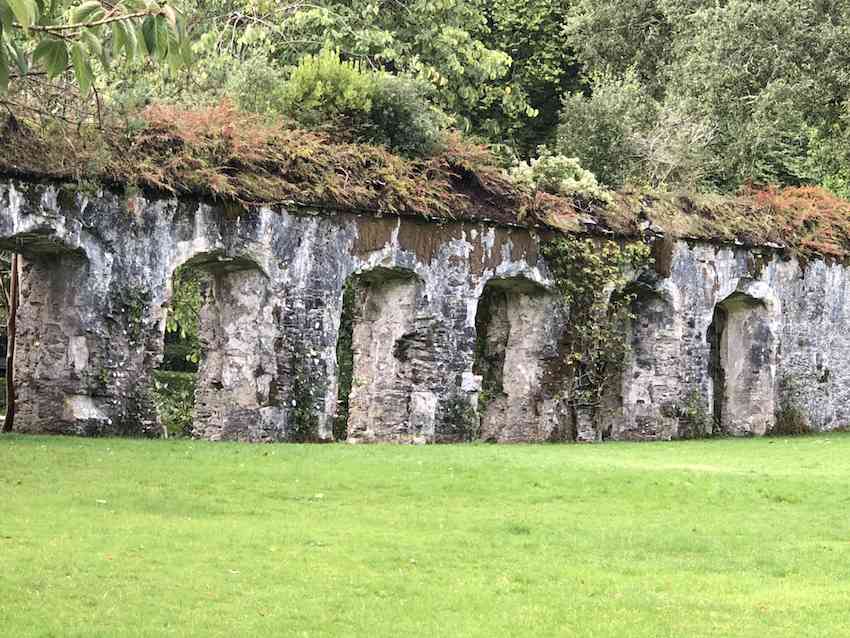 nge of buildings glimpsed in the ruined arches that still stand to the south of the great hall was built by John Holland or later.
Most of the work on Holland's Devon country residence seems to have been completed by 1400, by which time King Richard had been deposed and Henry Bolingbroke, John of Gaunt's son and Holland's brother-in-law, was on the throne. Holland, having become embroiled in a plot to restore Richard, was executed in January 1400. King Richard died, possibly murdered, at Pontefract Castle a few weeks later.
Holland's estates and possessions were ceded to the crown but his widow managed to reclaim most only a few years after his death. She was, after all, the sister of the new King Henry IV. Her son, John Holland II, spent part of his childhood at Dartington and went on to fight in France under both Henry IV and Henry V, including at Agincourt. After a distinguished military career he rose to become Admiral of England and was created Duke of Exeter in 1444.His son Henry Holland lived through the turbulent years of the wars of the Roses, a staunch supporter of the Lancastrian cause. He lost his life at sea at the age of forty-five in somewhat suspicious circumstances with no heir to follow him, Eventually Dartington became a crown possession again
A Royal "trophy" estate
It was useful for Kings and Queens of England to have properties they could bestow on people who had served them well, or those they wanted to keep sweet, and Dartington was a wealthy estate. So a succession of people who did not live there but took income from the manor, followed. Those who benefitted in this way included Margaret Beaufort, mother of King Henry VII, Henry Courtenay, Marquis of Exeter, and two of Henry VIII's queens, Katherine Howard and Katherine Parr.
After Katherine' Parr's death in 1548 the estate was sold off and Dartington had a succession of owners in very quick succession, all taking advantage of a rapidly rising property market to make a quick profit. In the late fifteen fifties John Aylworth agreed the exchange of Dartington for Polsloe Priory with Sir Arthur Champernowne,
Sir Arthur Champernowne's Elizabethan mansion
Sir Arthur Champernowne, a politician and soldier, came from a prominent Devon family and was an ardent supporter of the reformed way of religion. He had flirted with conspiracy under Mary Tudor, even spending a short time in the T
ower of London after one of the plots against the Queen. He was riding high when Elizabeth succeeded Mary.
One of his sisters, Kat, wife of John Ashely, had been Elizabeth's childhood governess and was appointed First Lady of the Bedchamber.
Sir Arthur was appointed Vice-Admiral of the Fleet of the West, a position that enabled him to support prominent Huguenot leaders during the French Wars of Religion.
Sir Arthur transformed the by now rather old-fashioned hall into a sixteenth century mansion, a suitable home for his family, with all the standards of comfort of his day. In his Survey of Cornwall, Richard Carew tells us that Sir Arthur designed a banqueting house for him at Antony in Cornwall, so we might assume that Sir Arthur took an interest in architecture and design. He might have looked for inspiration to the changes Edward Seymour, whose son married Sir Arthur's daughter Elizabeth, had made at nearby Berry Pomeroy. It's quite difficult to identify exactly what changes he made. He probably removed some old staircases, added more private bed-chambers, and undertook some modification of the accommodation on either side of the courtyard. It would be wonderful to imagine that he also created an Elizabethan long-gallery in the South courtyard. Sadly, there is no evidence that he did. It is more likely that he actually dispensed with whatever crumbling buildings remained their from John Holland's time. Many of Sir Arthur's letters are written from Dartington, so it seems he spent a good deal of time in his Devon home until his death in 1578.
My fascination with sixteenth century Dartington and the people who lived there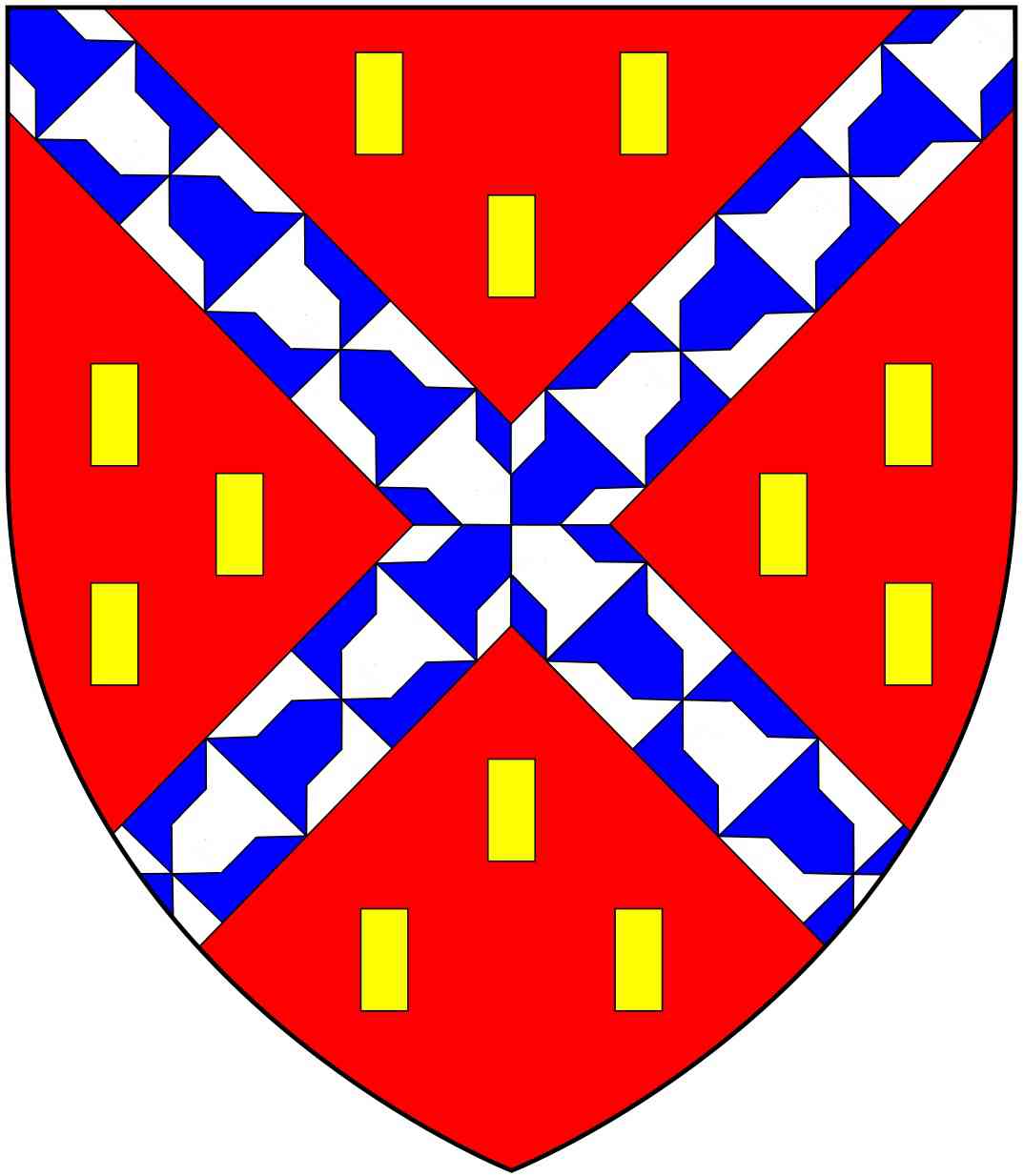 Katherine Raleigh was another Champernowne sister and Sir Arthur is an important character in my novel "A Woman of Noble Wit". He was the first of a long line of Champernownes who remained at Dartington until 1925. Their fortunes as country landowners fluctuated but they never again realised the national prominence they had held in Elizabethan England. In 1925 Leonard and Dorothy Elmhirst bought what was by then a dilapidated estate, What happened after that is a story for another day's telling.
At present my interest lies firmly in the Dartington of the sixteenth century. Surely Katherine Raleigh must have visited her brother here? It has been suggested that her son, Sir Walter Raleigh, designed a water feature for Sir Arthur's son, Gawen. If so, it seems the plan was never executed, but there is every possibility that Sir Walter did visit Dartington. Katherine's other sons, Sir John, Sir Humphrey and Adrian Gilbert all lived nearby. At least two of Katherine's boys, along with other cousins and relatives, accompanied her nephew Henry Champernowne when he led a force in support of the French Huguenots. Henry died fighting at La Rochelle in 1570, but Sir Arthur continued to be a prominent champion and supporter of their cause. There are many stories to discover about the people who lived at Dartington in that time.
I am grateful to the Dartington Trust who gave me permission to film and take photographs in the grounds during my stay in November 2021, when I was researching my next novel.
For some years now it has also been my privilege to be one of a team of volunteers who lead tours of the Dartington gardens. I love sharing a little of what I have learned about this special place, about the people who created it over the centuries and those talented individuals who through the twentieth century contributed to the design of the gardens we enjoy today. My other passion, alongside history, writing and recreating historical clothing, is gardening.
These are gardens for all seasons, and I've learned so much about the plants and trees that flourish here.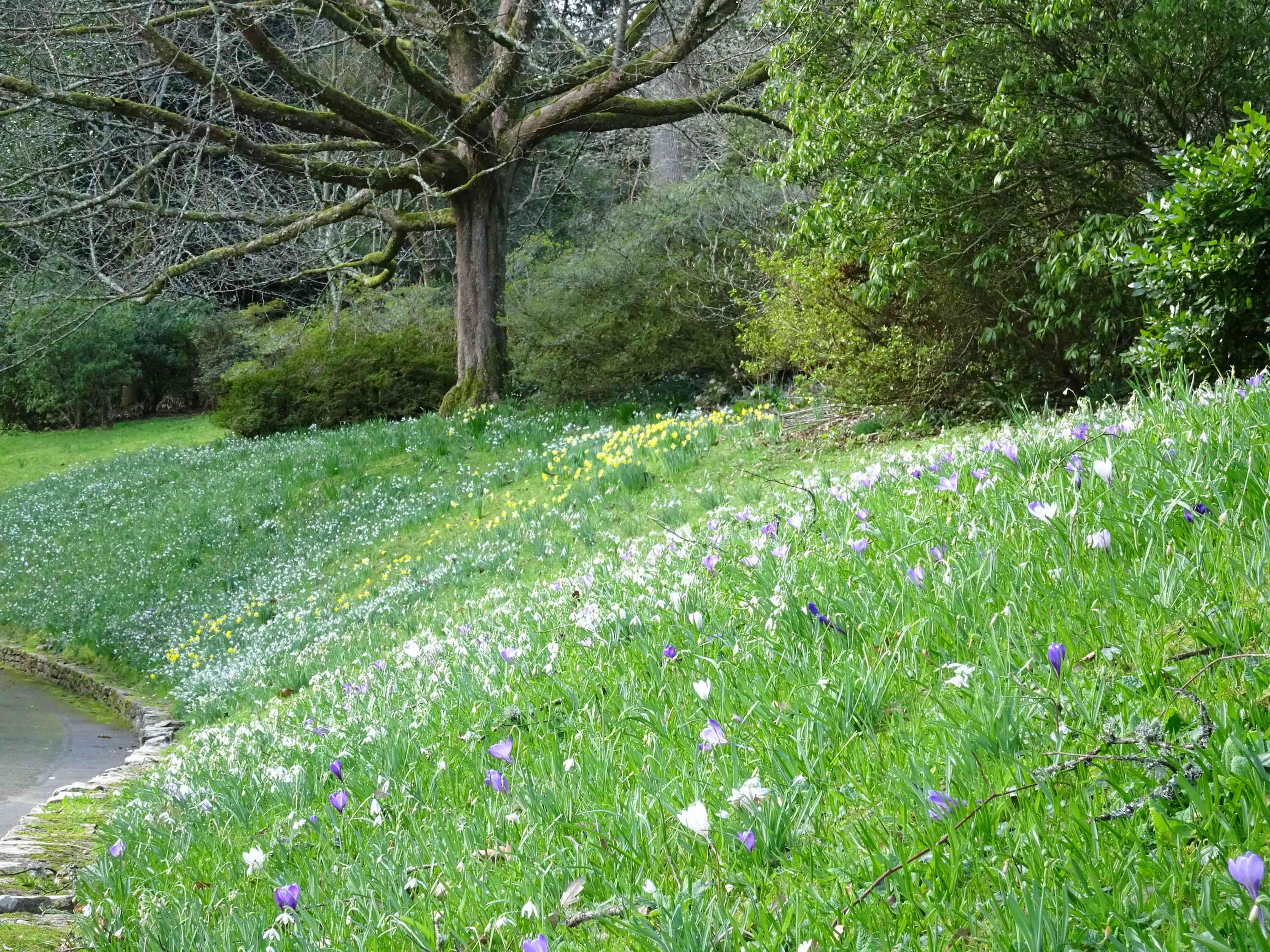 In the photo below I'm standing amongst the Spanish chestnuts that line the top of the tiered bank above what Leonard Elmhirst called the Tiltyard. They are thought to be around 400 years old. Almost back to Sir Arthur's time.