The Last Wishes of Katherine Raleigh
April 16, 2022
---
"Deare Sonnes"
On the 18th April in the year 1594 Katherine Raleigh lay in her bed at a house close to the Palace Gate, near Exeter Cathedral. She called for her grandson Arthur Gilbert and others to witness her last will and testament. As she lay, probably very near death, Katherine's overriding concern was to see all her accounts on earth settled and her faithful servants properly rewarded "to the uttermost farthings".
In a poignant document which she addresses to her "Deare sonnes" Katherine asks that outstanding accounts with the apothecary, the butcher and the tailor who had recently made new liveried uniforms for her servants, be settled. It's sometimes been suggested that this meant she "died in debt". Rather, I believe, it would have been entirely usual for a widow of Katherine's standing to hold accounts with tradespeople to be settled periodically. By the time of her death Katherine Raleigh was reportedly regarded as a rather grand old lady. After her second husband, Walter senior died in 1581, for the first time in her long life, she could hold property in her own right. The 1586 Lay Subsidy for the parish of St Mary Major, Exeter, assesses Katherine Rawlie, widow, in lands at £10 13s and 4d - an amount which sets her fairly high in the City's hierarchy. These may be the lands in East Devon, allocated to her in the 1550s in place of the widow's jointure she received from her first husband, Otho Gilbert, through a rather complex series of transactions also involving her son, Sir John Gilbert. No lands feature in her will.
While the parish register for St Mary Major church includes details of Walter senior"s burial in February 1580/81, the pages for 1594 are frustratingly missing. So we do not know the exact date of Katherine's death. Almost certainly it was shortly after she signed her will which was proved on 15 May.
Old St Mry Major's Church
In a letter to his wife, Bess Throckmorten dated December 1603 Katherine's famous son, Sir Walter, expresses a wish to be buried either at Sherborne or " in Excester Church with my father and mother." It's pleasing to know that Katherine was re-united with her second husband in St Mary Major. But I can't pay my respects to this remarkable woman in the church where she was laid to rest. Old St Mary Major was demolished in the nineteenth century, and replaced by a Victorian church which was it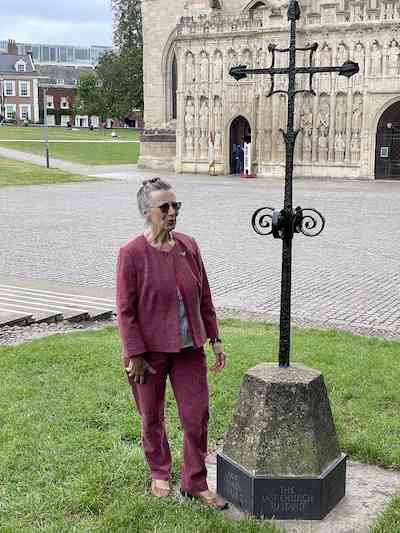 self pulled down in the 1970s. This simple cross on Exeter's cathedral green is all that marks the site of the old church.
It is where I go to remember this remarkable woman who saw the reigns of six Tudor monarchs (iI have included Jane Grey).
Five of Katherine's sons survived to adulthood as well as two, possibly three, daughters. At least one other child died in infancy.
Katherine was well into her seventies when she made her will, a long life for a woman of her time.
Katherine's last wishes give a clear picture of what was most important to her. She wanted to die with a clear conscience knowing that all debts on earth were discharged. She mentions no lands, no jewels, but her saddle and saddle cloth are left, along with "the bed on which I lie", to Katherine Hooker. (daughter of Katherine's step-daughter, Mary who had married the son of Exeter historian, writer, antiquarian and civic administrator John Hooker). Kateherine leaves her wearing apparel to her servant, Marie Weare. I have traced a woman of that name who married in St Mary Major church a few years after Katherine's death. I like to imagine that Marie may have worn her mistress' gown at her wedding.
John Hooker, who died in 1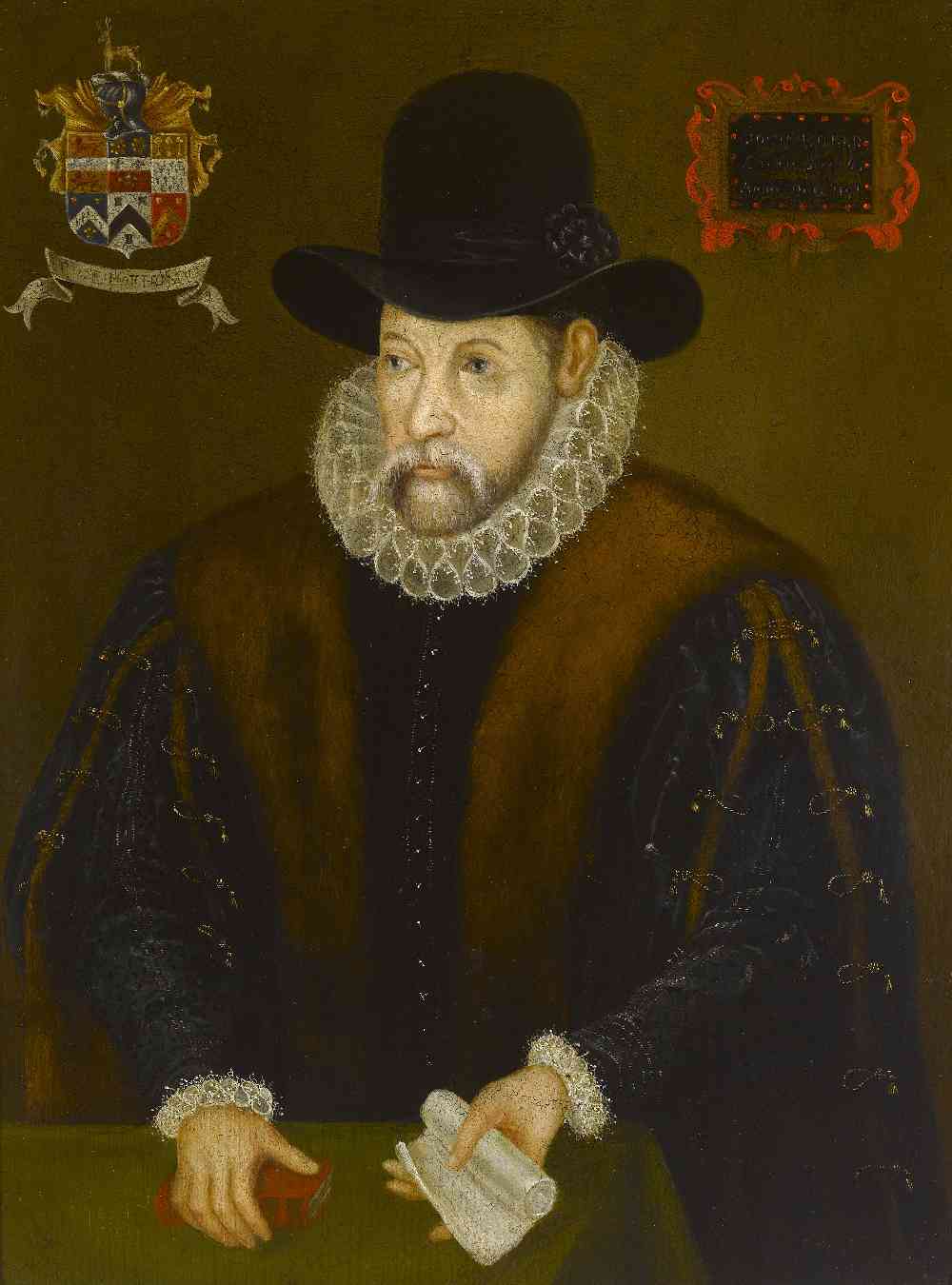 601, left us a treasure trove of writings that illuminate Exeter's Tudor history. Amongst them were records from his time as City Recorder and his " Life of and Times of Sir Peter Carew" — Katherine's cousin and also Hooker's patron.
John Hooker's portrait can be found in Exeter's Royal Albert Memorial Museum. Although no portraits of Katherine have survived, we can at least look on the face of a man who knew her well.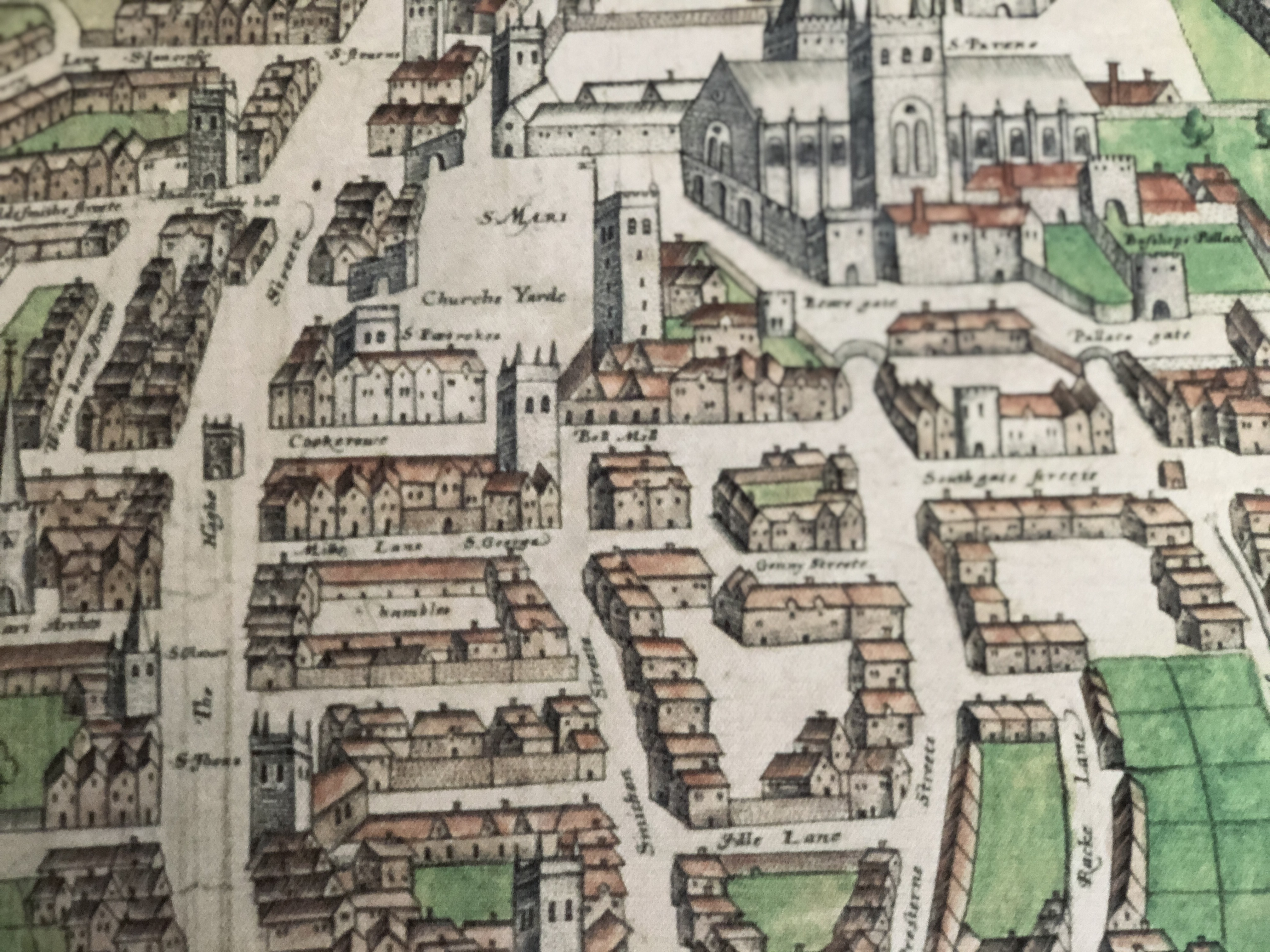 No trace can now be found of the house in which Katherine breathed her last. But John Hooker also left us a detailed map of sixteenth century Exeter, a copy of which hangs on the wall in my study. The Palace Gate area is marked, close to the Bishop's Palace which does still stand.
Katherine's will was almost lost to us entirely when bombs fell in Exeter on the night of 4 May 1942. It was one of the priceless documents stored at the City Library which was completely destroyed in this, the second of two devastating raids. Exeter was targeted during what became known as the "Baedeker Blitz" (named for a series of German tourist guide books which included detailed maps and were used to select targets for the bombing of English cultural centres and provincial cities. We are very fortunate that a nineteenth century scholar, T. N. Brushfield (who had it from Mr Winslow Jones), left us a transcript of Katherine's last wishes.
Here is the full transcript of Katherine's will as given by Brushfield:
Deare sons
I earnestly entreat you that after my death you will see to such debts to be satisfied as shall be demanded after my departure and that you will see my servants satisfied and to have there due in such things as I have bestowed upon them to the uttermost farthings to the end that I may end my days towards God with a pure Harte and faithful conscience and so I bidd you all farewell. The eighteenth day of April 1594.
Imprimus due to John Uncle a Butcher 8 pounds. Item due to Henrie Ellet the Apothecarie 13 pounds and fifteen shillings. Item due to Mr Bodley the Merchante seven shillings and sixpence. Item to Christopher Spicer to the broadgate for liveries four pounds six shillings and six pence. Item due to Marie Weare twenty shillings to Emline Baker the great salt in parte payment of forty shillings. Item I give to Mrs Katherine Hooker the bed wherein I lie ? performed my saddle and saddle clothe pfoumed the little salte and two spones one payer of hollande sheets the little borde witht he green carpet. Item I giove to Marie Weare all the apparel that I wear besides a writinge that she hathe to showe. Item to Joan Jellicott I give 20 shillings. Item I give to Johane Wise ten shillings. Item I give to Jaces Way twenty shillings. Item I give to mother Cosens ten shillings. Arthur Gilbert, Nicholas Bolte and Richard Jerman witnesses.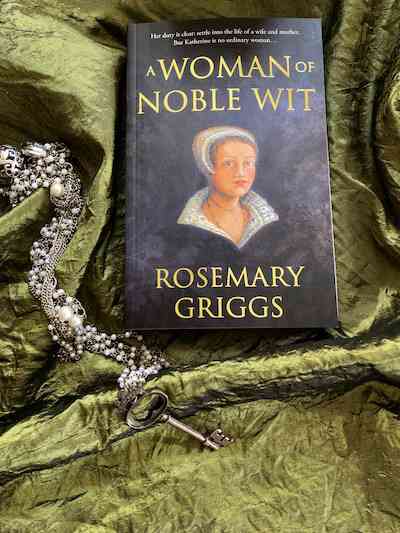 Read Katherine's story in my novel A Woman of Noble Wit.
Thomas Nadauld Brushfield (1828 - 1910)
After a career as a doctor specialising in mental illness Brushfield retired to Buddleigh Salterton, not far from Hayes Barton (Poer Hayes) where Sir Walter Raleigh was born. Raleghana., a series of papers devoted to his research into Walter Raleigh's life and literary work, were published in the Transactions of the Devonshire Association between 1896 and 1907.
Portrait of John Hooker - Royal Albert Memorial Museum, Exeter.
Don't forget to share this post on social media using the buttons below