Merchants, privateers and pirates on the River Dart and the Shipman of Dartmouth
June 15, 2022
---
Spawned from rainfall on the heights of w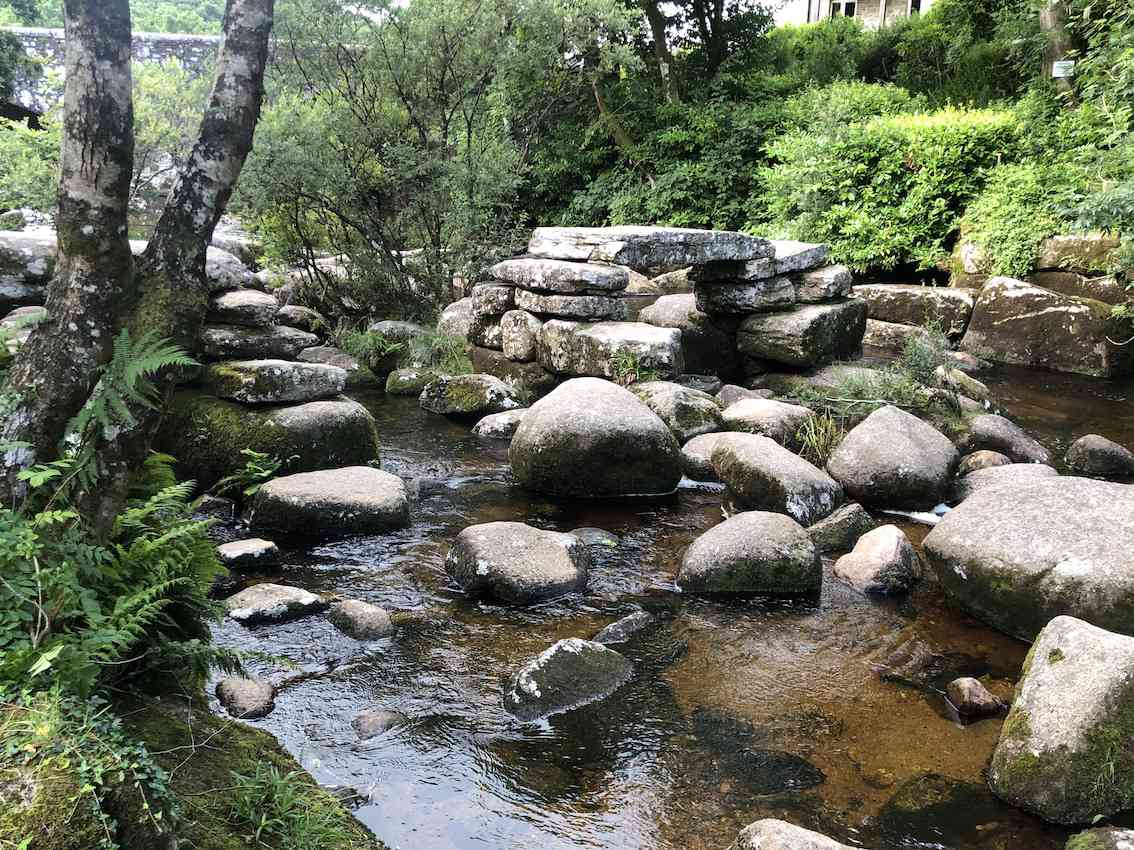 indswept Dartmoor, two streams —the East Dart and the West Dart — gather tributaries as they gush over waterfalls and rush under ancient clapper bridges. When they reach Dartmeet they join to become the River Dart, which then continues its tumbling descent from the moor, through the towns of Ashburton and Buckfastleigh and on towards Totnes.
From there the wide river makes its stately progress between high wooded banks towards the sea at Dartmouth.
First recorded in 1162 as Derte, the river's name is thought to come from a Celtic word meaning "where oaks trees grow". It is certainly true that great stands of oak lined the banks of the lower reaches of the river. From medieval times, these oaks provided timber for ships that carried cargoes on the river and across the sea and for later vessels that carried Devon adventurers to new lands.
Legend has it that Phoenician galleys traded on the Dart and Viking long boats may have ventured up stream to raid settlements further inland. The Normans soon realised the value of a safe harbour near the river mouth from which they could easily return to their estates in France and Dartmouth began to grow. By the 12th century the town was a bustling port, used as an assembly point in 1147 for a fleet of 146 ships setting out on the Second Crusade, and again in 1190 when more than 100 vessels embarked upon the Third Crusade.
From the 13th century cog boats, clin
ker built vessels of oak with a single sail, were operating regularly on the river, some large enough to put to sea. with 'Castles' at either end to allow the seamen to shelter during sea battles boats like the one shown in the Dartmouth Coat of arms (shown here in stained glass in St Saviour's Church) became a familiar sight on the river and beyond. A flourishing trade grew up — importing Gascon wines and linen cloth from the continent to Dartmouth and up the river to Totnes and exporting wool, woollen cloth, tin and dried fish for export. The fortunes of many merchants were made through this trade, amongst them the forebears of Katherine Champernowne's first husband, Otho Gilbert.
In 1326 Geoffrey Gilbert, son of Thomas, became MP for the Town of Totnes. A few years later he was collecting taxes for the King and in due course he served on various royal commissions. Geoffrey married Joan de Compton and commenced the building of a manor house near the village of Marldon, but it seems he also maintained some interest in Totnes. One of the most thrilling finds during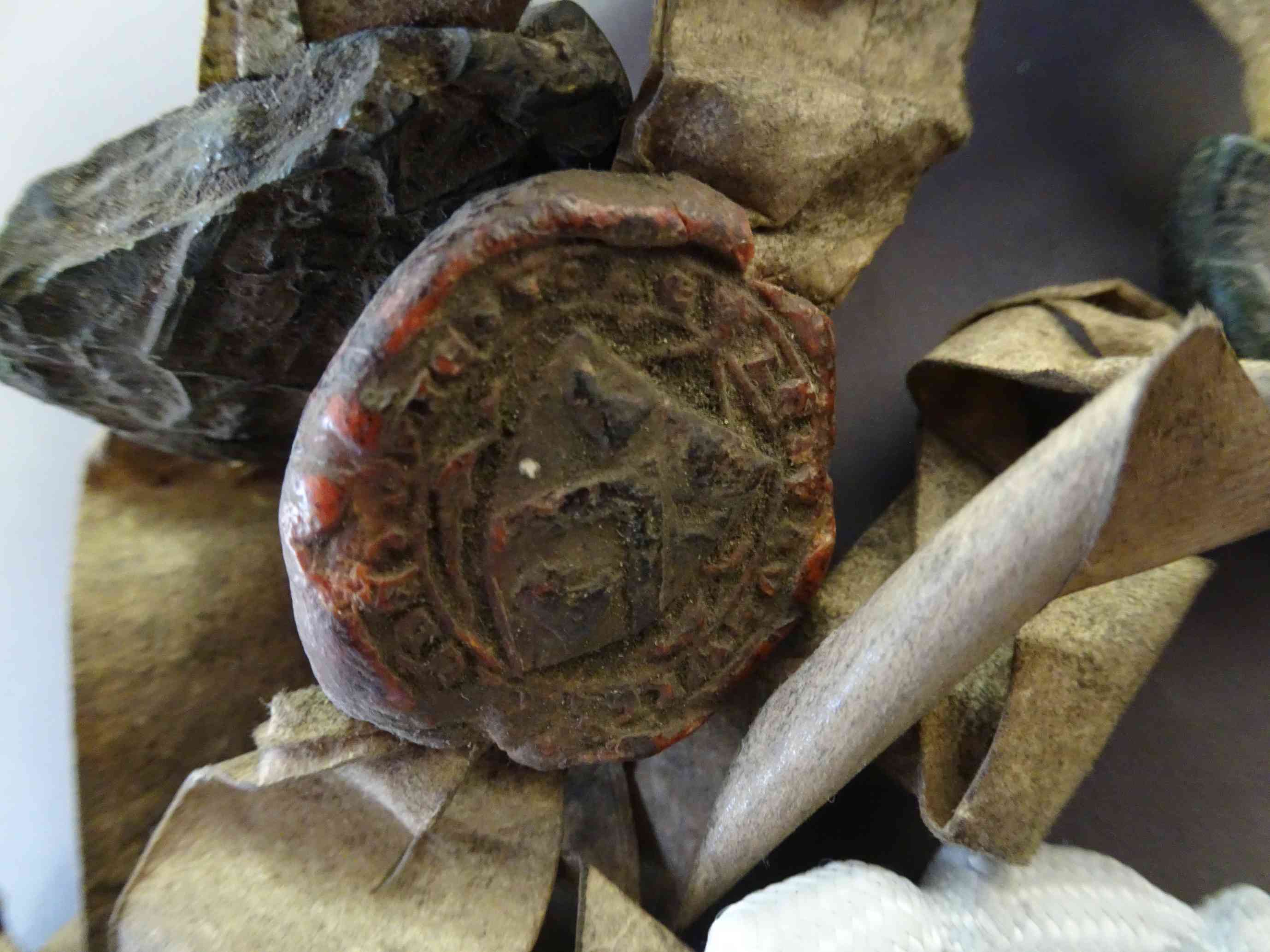 research for my novel, A Woman of Noble Wit, was the 1349 deed, complete with seals, by which Geoffrey Gilbert established a chantry in the Church of the Trinitarian Friars at Totnes.
By the late fourteenth century Geoffrey's grandson, William Gilbert, was operating ships on the River Dart and he was diversifying. On 8 May 1394 William, with his cousin Otho Chambernoun (Champernowne) and Richard Gilbert, was granted a licence to convey 100 pilgrims on a ship called "la Charite de Paynton" - the Charity - from the port of Dartmouth to Santiago de Compostella to pay their vows and bring them back to England. The Charity was captained by one Peter Cok, and it would have been his duty to collect from each pilgrim six pennies for the Treasurer of England. The pilgrims, dressed in costume associated with St James — a cloak and floppy felt hat — and carrying a long staff, were not permitted to take any gold, silver, or money out of England. Transporting pilgrims was a useful additional sideline for men like the Gilberts, who probably also filled the ship's hold with cargo on the pilgrim voyages.
Successive kings relied on ships from ports such as Dartmouth to transport soldiers to war and to protect the coast from attack. Merchant ships like the Charity were armed to protect their cargoes. Licensed to operate as privateers they could also attack ships of the Kings enemies, help themselves to the cargoes they carried, while the King took a share of the profits. But even in the fourteenth and fifteenth century the line between honest privateers and pirates, who would prey on ships of any nation, was fi
nely drawn.
Thought by some to have been the model for Chaucer's shipman, the wealthy John Hawley (1340 -1408) of Dartmouth fell fowl of that line on occasion. Like his father, who built 'Hawley's Hoe' — a great wharf with warehouses on the Mill Foss — he operated a fleet of ships exporting woollen cloth and importing wines.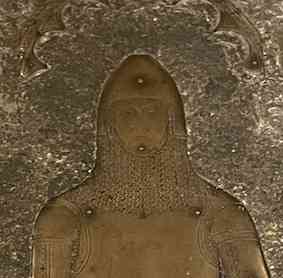 John Hawley amassed considerable wealth and came to hold as many as 45 houses in the town and in1377 he was living with his wife and four servants in a mansion between Higher Street and Lower Street. The house was acquired by the town in 1480 and used for the next four centuries as the guildhall. It was John Hawley also financed the building of the chancel in the town's newly founded church, dedicated to the Holy Trinity and St Mary. Consecrated by Bishop Brantingham of Exeter in October 1372, at some point prior to 1430 it was rededicated as St Saviour's.
Mayor of Dartmouth 14 times, he served twice as the town's Member of Parliament. John Hawley also helped to build the fort that later became Dartmouth Castle. In 1404 he despatched an army from his stronghold in the castle to repel a French invasion force of 2,000 knights and men at arms who landed at Slapton Sands. All in all, John Hawley seems to have been a veritable pillar of society, not shy about contributing to good works. But he's often also called a pirate.
All through Hawley's life, England and France were engaged in the long-running conflict which became known as the Hundred Years' War. For Hawley, privateering was lucrative, and sometimes it was questionable whether the prizes he took were actually enemy ships. So the activities of his ships often attracted the judicial attention of the royal council. In most cases there was little fuss and he made full recompense to any merchant whose claim against him was validated. But, on 15 December 1406 he was imprisoned in the Tower and not released until 4 Feb following. He agreed under a penalty of £1,000 not to leave Chancery without the Council's licence and to return the goods of certain merchants of Barcelona which he had taken at sea. He was required to appear before the Council once more, in February 1408, but died later in the year, on 30 December.
Hawley's name lives on in the couplet
Blow the wind high, blow the wind low,
It always blows fair to Hawley's Hoe.
I had the sailor's singing this as Katherine Champernowne arrived in Dartmouth on board the Trinity in my novel.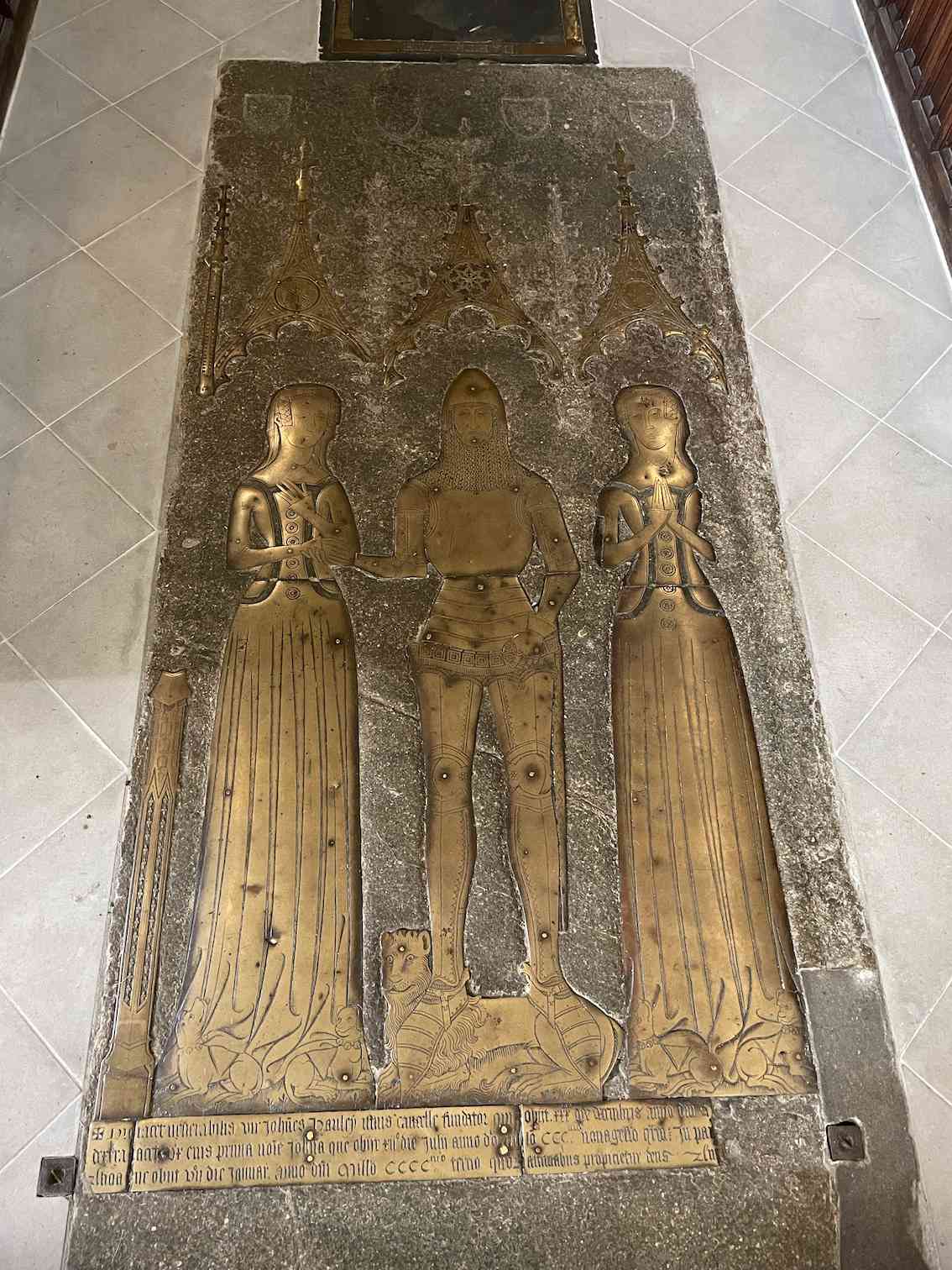 A magnificent memorial brass in St Saviour's church showing Hawley flanked by Joanna, his first wife (d 1394) and Alicia (d 1404) is the largest in Devon and one of the finest in England.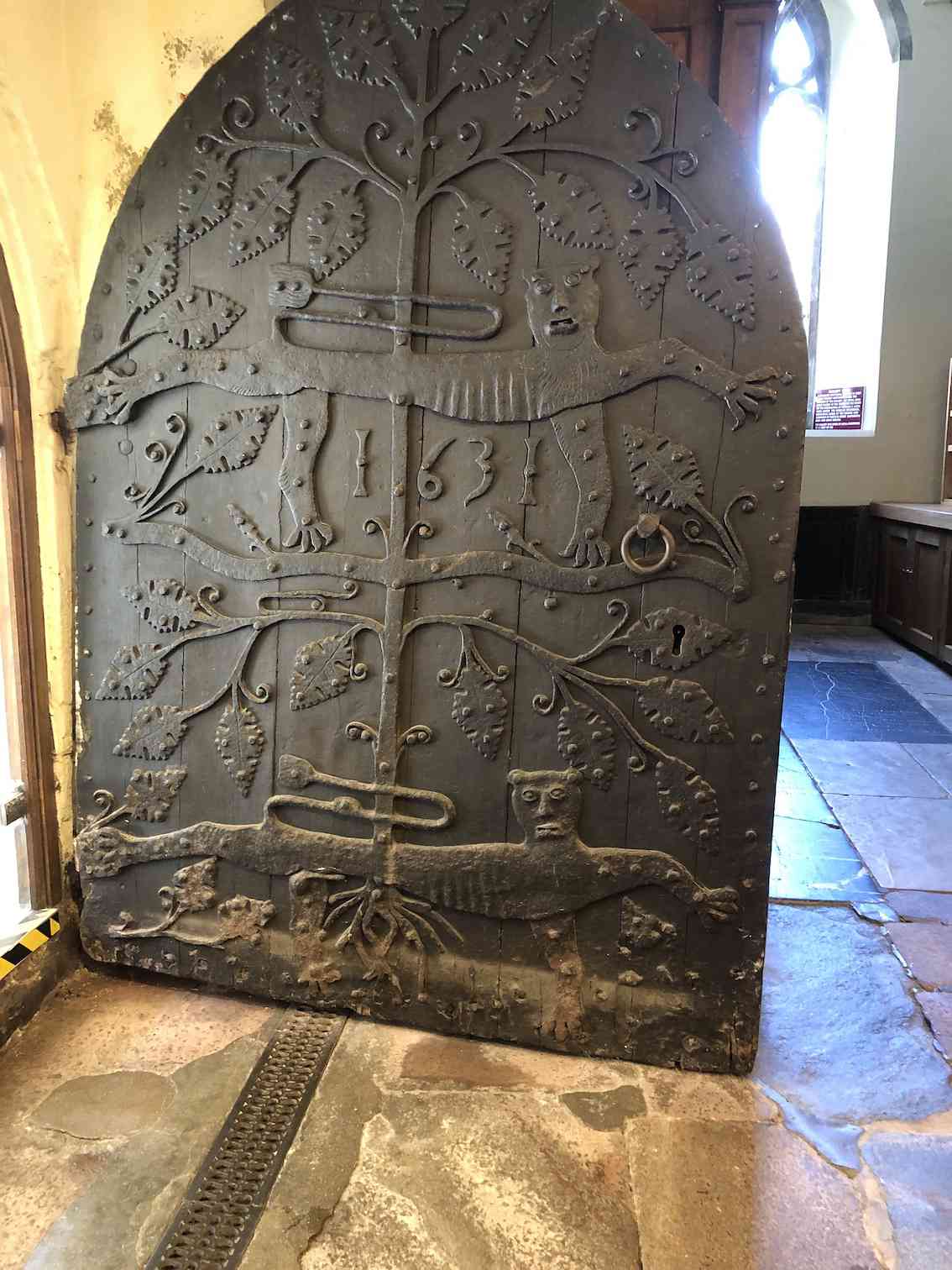 St Saviours church is a truly wonderful treasure trove of other medieval delights including this extraordinary door. The wood has been carbon dated to 1361, — the date on the ironwork is the date it was repaired.
So was John Hawley really the role model for Geoffrey Chaucer's shipman? Well, Chaucer certainly visited Dartmouth in 1373 as customs officer for the King. He may well have met John Hawley and his father. But Chaucer's shipman is a skilful navigator with a darker side, one who would certainly feel no compunction in acts of piracy. At the time of Chaucer's visit Hawley was not yet known for piratical adventures — he received his first privateer's licence in 1378. So it seems more likely that Chaucer's shipman is drawn from tales of the exploits of many Devon seamen, and not solely based on Hawley. Be that as it may, John Hawley was certainly quite a character, on eof many famous seafarers who sailed the River Dart.
Rosemary Griggs15 June 2022