The Death of Katherine Raleigh's Youngest Son, Sir Walter and The Red Velvet Bag
October 28, 2023
---
Portrait of Sir Walter Raleigh (painted around 1598) National Gallery of Ireland via Wikimedia Commons
There was an autumnal chill in the air as Sir Walter Raleigh left the cell in the Gatehouse near the West end of Westminster Abbey where he had spent what was to be his last night on earth.
On the morning of the twenty-ninth day of October 1618, the feast of Saint Simon and Saint Jude and the day of Lord Mayor's show, people were expected to flock to entertainments and processions in the City. But any hopes King James I had entertained that those festivities would keep everyone away from Whitehall were soon dashed. Men and women packed tightly into Old Palace Yard, outside the Palace of Westminster, keen to hear Katherine Raleigh's boy give his last speech from the scaffold. One man reported that he became quite breathless and a little faint as he pushed his way through the throng. It is perhaps a blessing that Sir Walter's mother was not amongst them. She did not live to see her youngest son meet his end with such astonishing courage. But another valiant woman waited for the axe to fall: his wife, Bess.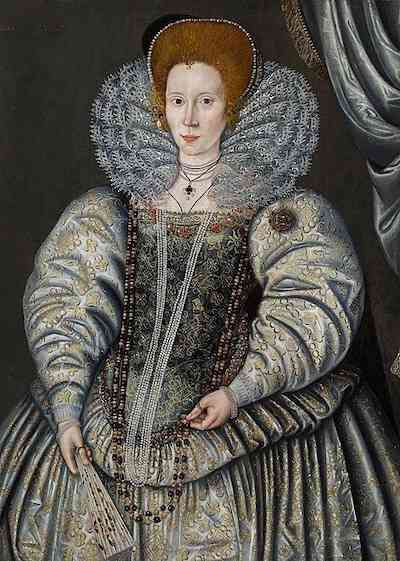 Portrait of Elizabeth "Bess" Throckmorton (1565 – c.1647), private collection. Via Wikimedia Commons
The daughter of diplomat and politician Sir Nicholas Throckmorton, Bess was nineteen years old when she went to court and became a lady-in-waiting to Queen Elizabeth. She was appointed a Gentlewoman of the Privy Chamber, a very prestigious post for one so young which meant that she was one of the women responsible for dressing the Queen. So it must have been very difficult for her to hide her relationship with the queen's favourite, the charismatic Sir Walter Raleigh, which probably started around 1590.
In November 1591, Bess being pregnant, they were secretly married. Although Bess tried to hide her secret, rumours reached the ears of Queen Elizabeth who, in August 1592, jealous and furious, confined them both in the Tower of London. They were not to be imprisoned for very long, Walter released first, Bess a few months later. But by then the baby, a son named Damerai, had died, probably of the plague.
A second boy named Walter, but known as Wat, was born in November 1593. It's not known whether Katherine Raleigh ever met her grandson.
Sir Walter Raleigh with his son, Walter (Wat) 1602. National Portrait Gallery. Via Wikimedia Commons
Sir Walter and Bess were perhaps somewhat shamed, but they were certainly not ruined. He still had Durham House as well as Sherborne Castle and he still benefited from his monopolies of things like wine licences and the export of broadcloth. They were re-building their lives at Sherborne in the spring of 1594 when Katherine Raleigh died. She must have felt relieved that he had survived Queen Elizabeth's anger and been full of hope for her son's future.
Katherine died before her son's great expedition to Guiana. She never knew that he managed to slowly claw his way back into royal favour, although Bess never regained her position at court. Sometimes portrayed as a domineering woman, Bess needed to be strong to manage her husband's estates during his frequent absences. She fought hard all her life to keep the Raleigh lands.
Nor did Sir Walter's mother know that, after the death of Queen Elizabeth, her son would be accused of involvement in a plot, funded and backed by Spain, to oust King James I and put Arabella Stuart on the throne. Katherine would surely have laughed out loud at the suggestion that her boy, who had probably done as much as any man to fight and defeat Spain, had accepted Spanish money. She never knew that he would be held prisoner for so long, nor the outcome of his last bid to find gold for the king and earn his pardon.
Thirteen years in the Tower of London
Arrested at the Exeter Inn, Ashburton, Devon in the summer of 1603, Sir Walter was again thrown into the Tower of London. This time he would remain there for thirteen years. Initially under sentence of death and in despair, he eventually settled into his life in confinement. Conditions were not quite as bad as we might imagine. He had two rooms on the upper floor of the Bloody Tower (then known as the Garden Tower as it overlooked the Tower Lieutenant's garden).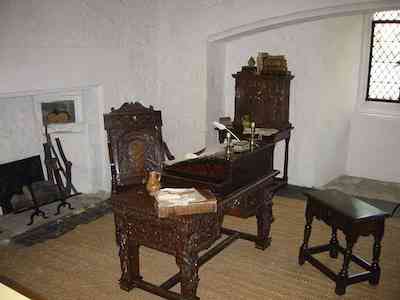 Modern day representation of Raleigh's lodging at the Tower of London — via Wikimedia Commons
His lodgings were well furnished, and spacious enough for Bess, young Wat and three servants to join him for a while. Another son named Carew was conceived in the fortress and born in 1605 , probably in a house on Tower Hill that Bess had rented. A baptism entry in the parish register of the Chapel Royal of St Peter ad Vincula reads
Carew Rawley, was baptized ye 15th February / the sonne of S[ir] Walter Rawley, [Knight].
At times when Bess was not living at the Tower, her coach was often seen at the gates. There can be no doubt of her devotion to her husband.
It may have been Sir Walter's mother who inspired in him an enquiring mind and an interest in plants and gardening. Gardening was something of a family passion — his half-brother Adrian Gilbert became a well known garden designer, while another half-brother, Sir John Gilbert, is known to have laid out gardens at Greenway Court, beside the River Dart in Devon. Adrian Gilbert also shared with Sir Walter an interest in chemistry and worked with Mary Sydney Herbert, Countess of Pembroke, in her laboratory at Wilton.
Whilst in the Tower Sir Walter set up his own garden to nurture exotic plants he grew from seeds he had gathered on his travels and was allowed to convert an old hen-house into a laboratory where he brewed his own herbal medicines, cordials to cure a host of ills, which were in much demand. He even offered a cordial to cure King James's son, Henry, Prince of Wales, who was a frequent visitor. It seems the Prince was impresesed by Sir Walter and enjoyed spending time with him. He is reported to have said:
"Only my father would cage such a bird".
Sir Walter had access to in the Tower of London's library (around 500 books) and started to write his "Historie of the World". It was originally intended for Prince Henry's education, but when the young prince died in 1612, Sir Walter did not continue the work. Katherine Raleigh would have been very proud to know, however,that the first five volumes he had completed were published in 1614. She would perhaps also have appreciated his poetry.
His last expedition
In 1616 Sir Walter was released from the Tower by James I, not yet pardoned, but ordered by the king to undertake an expedition to Guiana to search for gold. In his sixties and in poor health, he remained in Trinidad while his son Wat and others ventured ashore on the mainland, with clear orders from the king to avoid conflict with Spain. They found no gold and young Wat was killed when fighting broke out at the Spanish village of Santo Tomé.
There are differing reports of what sparked the incident there. Wat was the first casualty of a brief skirmish,apparently killed by a musket ball. One other Englishman and two Spaniards also died before the Spanish garrison fled the town. Lawrence Kemys, a seasoned captain who had accompanied Sir Walter on his first visit to Guiana in 1595, led the English party. He and his men were left in control of the town which was surrounded by hostile Spanish forces. Kemys sent out a few brief expeditions in search of gold, but found nothing. After 29 days and failed attempts to negotiate with the Spanish, Kemys and his men looted and burned Santo Tomé and the set off back down the Orinoco. When they rejoined Sir Walter in Trinidad Kemys was so distressed by what had happened that he attempted suicide by shooting himself with a pistol. When that did not prove immediately fatal, he stabbed himself in the heart with a knife.
We might wonder why, having failed in his venture, having lost his son, Sir Walter returned to England at all. Men under his command had disobeyed clear orders to keep the peace with Spain. He must have known that would mean that James I would have had little option but to enforce the suspended death sentence which had been imposed for treason in1603 in order to appease the Spanish. But he did return, to be immediately arrested.
Execution
Ironically, his earlier conviction had been for conspiring with — not against — Spain in a plot to remove King James I from the throne. But that made no difference and Katherine Raleigh's son walked out to face the headsman on that bleak October morning. I am glad she never knew.
Determined to give his side of the story he spoke for 45 minutes with wit and humour before he laid his head on the block commanding the executioner to "Strike man, strike", when the nervous man charged with dispatching him hesitated.
Nineteenth century sketch of the Execution of Sir Walter Raeligh Via Wikimedia Commons.
The manner of his death — an elderly man in poor health condemned and killed as it seemed without full respect for the proper process of justice — generated sympathy for Sir Walter he had not always enjoyed in life. Colourful and heroic stories started to grow about him; legends with no basis in fact about potatoes, tobacco and cloaks in puddles.I think his mother would have smiled a that.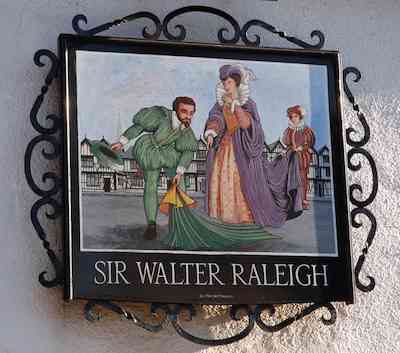 The pub sign in Raleigh's home village of East Budleigh
Bess and The Red Velvet Bag
Fighting to the end, Bess had hoped to be allowed to bury her husband at Beddington, the estate her brother Sir Nicholas Throckmorten had inherited under the will of his uncle Francis Carew of Beddington. (Sir Nicholas changed his name to Carew in May 1611.) But Sir Walter's body was instead carried to St Margaret's church not far from the place of his execution, and buried there before the altar.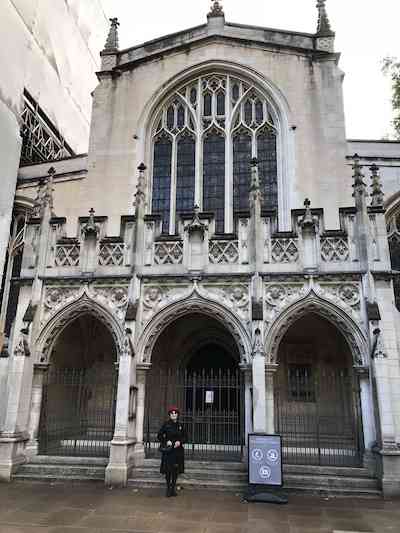 At St Margarets Westminster on 29 October 2018
The story then takes a macabre turn. Bess begged to have her husband's head and it's said she carried it away from the scene of his execution in a leather bag. After that she is supposed to have had the head embalmed and to have kept it with her until she died 29 years later. Its even suggested that she carried the head with her in a red velvet bag wherever she went, although there do not seem to be any contemporaneous accounts to confirm the story that she went about showing it to people she met.
When he died Bess and Walter's youngest son, Carew Raleigh, was buried with his father in the chancel of St Margarets, Westminster. An entry in the burial register shows he was buried on the first day of January 1667. It is a tradition in the church that Sir Walter's head was also buried in the grave at that time.
But another version of the story suggests that following Bess's death in 1647, Sir Walter's head was placed in a cupboard under the stairs at West Horsley Place, an estate owned by Carew Raleigh between 1643 and 1665, where Bess had also lived. The head was then, it is said, rediscovered in 1660 when Carew's three young children died in an epidemic. The head is supposed to have been buried alongside the children in the side chapel of neighbouring St Mary's Church, West Horsley.
In 2014, a red velvet bag was found at West Horsely Place. Could it be he very one that Bess carried her beloved husband's head in all her days?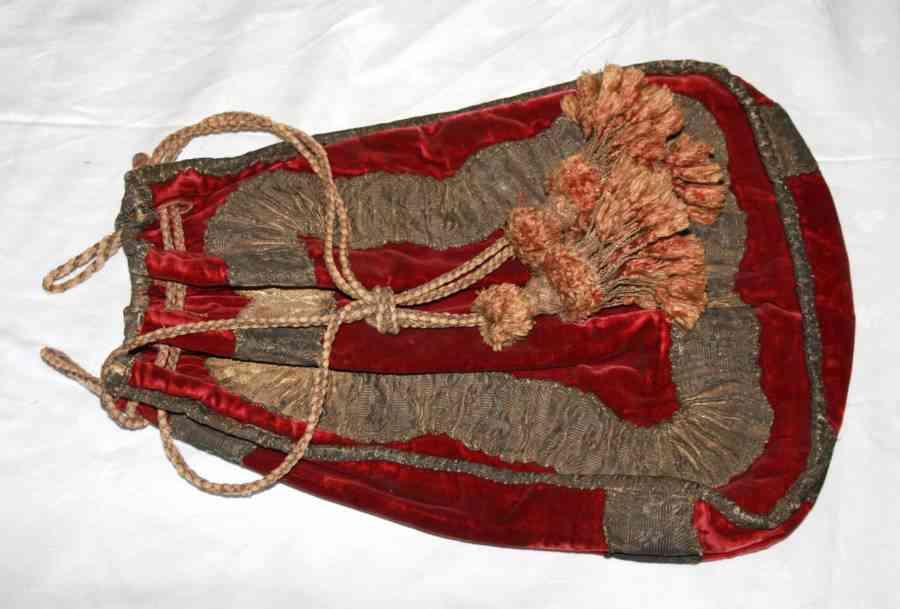 The red velvet bag found at West Horsely Place.
Photo Mary Roxburghe Trust via Wikimedia Commons
Whether she did carry that bag or not, Bess was a devoted, strong, and formidable women who continued to fight for her family and their rights. In 1628, a Bill of Restitution restored the Raleigh name "in blood" which allowed her one surviving son to inherit. I'm sure her mother-in-law would have been proud of her.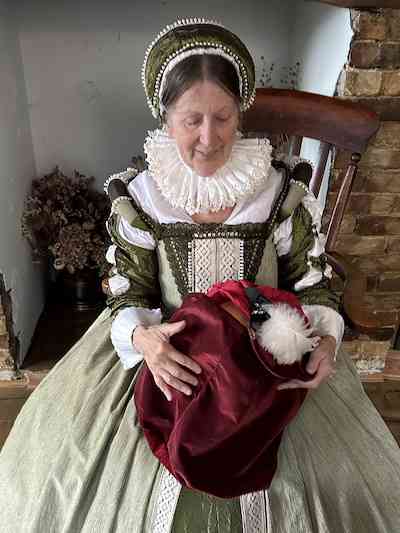 (I also have a red velvet bag . I occasionally take it with me as I travel around Devon.)
Rosemary Griggs
October 2023